Yousef Naseer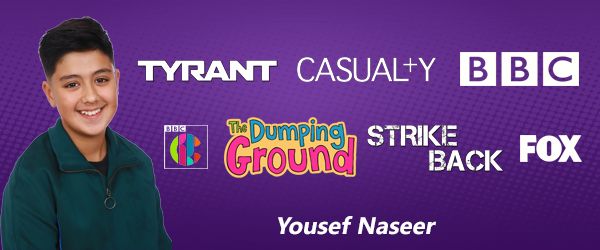 Yousef was an acting novice when he first started weekly classes at Articulate. Since making the decision to join us, Yousef has landed some dream jobs. The youngster was first offered offered the role of Ghani in FOX's 'Tyrant Season 2 and 3' where he spent months filming in Budapest. His overseas filming didn't stop there either, soon after this, he was offered a role in 'Strike Back' for Sky 1 evoking tears from viewers in some very emotional scenes. Yousef has also had great success in kids TV, landing a series regular role in the largest kids TV show in the UK 'The Dumping Ground', a spin off of the infamous 'Tracey Beaker' on CBBC, which he filmed across several years. Yousef is now 14, has recently appeared in Casualty for BBC1 and enjoys meeting new casting directors, auditioning, filming and attending acting classes to constantly work on his skills. 
---
Tilly Kaye
Tilly Kaye, now 8, was also an acting novice when she started at Articulate. Since joining the classes at a young age, Tilly was quickly audtioning for commercials, landing the lead roles in commercials for Iceland, VARTA, McDonalds, Park Christmas, Leapfrog, Scruff – a – Luvs and Angry Birds. Tilly then started working in TV and initially landed leading child roles in pilots before landing her role as 'Amy Sowden' in Gentleman Jack, and 'Calamity' in Last Tango in Halifax (both for the BBC). Tilly's also appeared in World on Fire (also for the BBC) and is currently between filming and auditioning, whilst training  through her weekly drama classes. 
---
Austin Haynes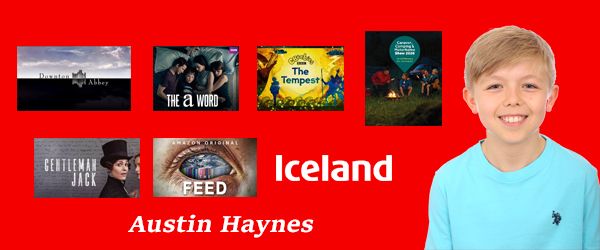 Austin came to Artiuclate as a novice actor, keen to try something new and after a lot of acting classes here, really developed his skills and 'naturalistic acting'. Austin's first major success was landing the role of 'Ollie' in The A Word Series 2 (BBC) which filmed in the Lake District. Soon after, his CV began to lengthen, with roles with CBeebies, Amazon TV, the BBC and various commercials. Austin extended his CV to cover voicework including work for Downton Abbey The Movie (2019) and a key Barnardo's campaign (2020). Austin has recently filmed as 'Joseph' in the Christmas Special for the new 'All Creatures Great and Small' (set in the Yorkshire Dales) for Channel 5, as well as working alongside Helen Mirren and Jim Broadbent landing a small speaking role in 'The Duke' which is due to be released in late 2020. 
---
Gianluca Gallucci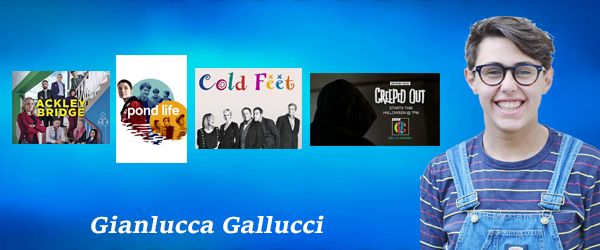 Gianluca joined us with little experience in the drama and performing arts fields, but a really big passion for it. He has since worked extremely hard to polish his skills and develop his craft and several years later he got his lucky break as co – lead in 'Creeped Out' for CBBC. Soon after, he succesfully auditioned for feature film 'Pond Life' (starring Sally Lindsay, Siobhan Finneran, Shaun Dooley, Sian Lee). The film was highly succesful in cinemas nationwide and Gianluca recieved much praise. Other notable productions that Gianluca has worked on are Ackley Bridge (Channel 4) and Cold Feet (ITV). 
---
Ubayd Rehman
Ubayd started Articulate as a newcomer to acting, initially taking public speaking and drama classes with us to build his skill set. Since joining us, he landed a recurring role in spooky BBC drama 'Remember Me' alongside Michael Palin and Jodie Comer (Killing Eve). Ubayd then went on to film a quirky little role in CBBC's 'Hank Zipzer' locally in Halifax, where he also filmed Ackley Bridge (Channel 4). Ubayd's skill set grew massively when he appeared in front of a live studio audience at Media City, when the BBC asked him to play the role of 'Faraz' in the hugely popular 'Citizen Khan'. He's currently studing in sixth form, and has a great passion fro drama, taking time out regulalry to film.
---
If you'd like to know more about any of our students, or would like to enquire about becoming an Articulate student…